As much as I enjoy playing the banjo, I also enjoy teaching its history. My intellectual curiosity about the banjo was fired when I learned of its African roots. As a Fulbright Award recipient in 2011, I was able to study traditional Mandé music in Mali, W. Africa concentrating on the n'goni, a spiked-lute ancestor of the banjo. I've studied and performed with Malian griot Cheick Hamala Diabaté since I was a teenager, attended the inaugural Black Banjo Gathering and several Banjo Collectors' Gatherings. Through apprenticeships, independent study, conversations with banjo scholars and a lot of reading, I've come to a greater appreciation for the banjo as the quintessential American instrument.
As a musician, I was introduced to the huge variety of traditional playing styles and tunings of the banjo through an apprenticeship with the late Mike Seeger. They represent the hard work and ingenuity of generations of musicians, the distilled, practical essence of banjo goodness. By performing the widest possible range of traditional banjo music (both geographically and temporally), I introduce listeners to the sonic possibilities of the instrument whether as a solo or group instrument, or as accompaniment for voice or dance.
The banjo has been many things to many people over the years, and as such is an ideal lens through which to examine American history. I've listed some examples below of ways that I can speak about and demonstrate the banjo; these programs may also be tailored to meet your specific needs.
You can request a booking for any of these presentation formats using the booking form. Please review the Presenter Resources page for helpful information when creating a booking with Seth.
Concert-Lectures: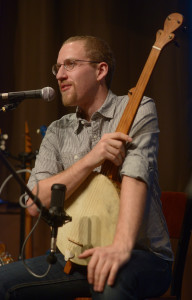 My favorite way of performing while informing by interspersing traditional music from W. Africa and America with insights into the banjo's history.
In a fast-paced concert, I share the story of the many twists and turns the banjo has taken as America's instrument, from Africa to the rural Antebellum South to the minstrel stages and genteel parlors of the urban North, all the way to the creation of bluegrass music in 1945.
I introduce and play the n'goni and akonting, two African ancestors of the banjo.
I introduce and play half a dozen banjos, including gourd and gut-strung minstrel banjos, a banjo-mandoline, mountain banjo, and modern open-back and resonator banjos.
The performance will include everything from W. African praise songs to breakdowns, waltzes, walk-arounds, courting songs and fiddle tunes.
Appropriate for colleges and universities, festivals and classrooms of all types.
Residencies: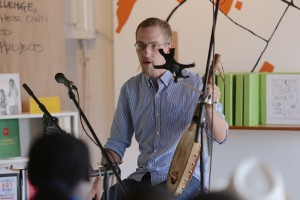 Through residencies, I provide a more nuanced and detailed picture of the banjo and its place in American musical and social history.
Includes discussion sections, lectures, in-class performances, and smaller performances around campus.
With multi-media presentations including video, audio, textual and web-based resources, I provide students and teachers with the information they need to delve deeply into American traditional music.
Appropriate for colleges, universities, and high schools.
Master-Classes/Workshops: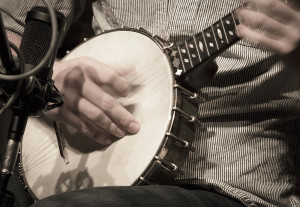 Hands-on instruction in the craft and technique of playing and may include banjo-specific repertoire and show-pieces.
Available to lead solo or round-robin presentation that include many traditional banjo styles including minstrel stroke-style, clawhammer, two-finger thumb lead, three-finger, and up-picking.
I teach unique banjo tunes in obscure tunings from musicians like Fred Cockerham, Hobart Smith, "Banjo" Bill Cornett, W.L. Gregory, and Matokie Slaughter.
Instruction may be one-on-one or in a group setting, and could be designated for beginner,intermediate, or advanced players.
Appropriate for festivals, music schools, music departments.